Speed to Power Your Household
Enjoy safe and reliable Internet when you switch to Windstream Internet service. Packages range from 3 Mbps all the way up to 1 Gig (1000 Mbps!) so you can find a plan to suit your every need. Whether you are just checking email and keeping in touch with the family, or you need to power an entire household of streaming and gaming devices, Windstream has what you need.
Kinetic High-Speed Internet for your area: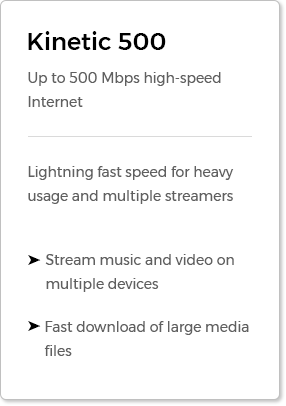 Price Guarantee and No Data Caps
When you choose Windstream Internet, in addition to fast speeds and a secure connection, you get great benefits. With Windsteam, your Internet price is guaranteed and there are no data caps to push the price up. That means the price you agree to is always the price you pay regardless of how much data you use. Many Internet providers can't promise this and it's why so many families in America choose Windstream.